Can you imagine walking through life with clarity, a greater sense of awareness and wisdom so you can accomplish more of what you want?
Can you imagine breaking those mental roadblocks that stop you from having the experiences you want in life? Imagine being part of a community that inspires you to be more and do more.
Psst…..Here's a secret, you can!
Over the last few years I've spoken to, held workshops for, and had private sessions with, thousands of people from around the world; I've invested thousands of dollars in certifications, education, mindset coaches, business coaches, life coaches because I wanted to see what the best were doing to help people achieve more of what they wanted.
Now, I've developed one of the most transformational programs combining insights from the best minds in social research, appreciative inquiry, and yes, even master classes in personal development and in a moment you'll get to see what's behind the curtain.
But, before I go on, let me ask you this:
---
Are you struggling with feeling any of the following?
Being stuck
You feel like you should be further along by now and for some reason you're not moving forward the way you want to.
Overwhelmed
Your mind is racing with thoughts & you're overwhelmed by the things you have to do; nothing is getting you where you want to be.
Procrastinating
You're unsure what path to take and you're procrastinating – staying busy with stuff that's not meaningful.
Unworthy
You find yourself overeating, sleeping in, over indulging in stuff that makes you feel even worse.
Frozen by Responsibility
You have so many things to do but when it comes to doing the things that matter most you freeze.
Are you experiencing any of the above?
You are?!! Good!…You are sooo in the right place!
---
Here's the Deal
Your circumstances won't change until you change. Everything you've done so far in life has led you to this point, but if you're not happy and fulfilled you need to do something differently to have a different life.
I want you to take a breath, close your eyes and imagine…
Living with amazing clarity around who you want to be in this world
… And you have no hesitation when someone asks you what you want to do with your life; even if you don't know how just yet.
Breaking the patterns of negative thoughts and emotions
... Allowing more positive experiences to come into your life. (doesn't that sound great?)
Experiencing life fully even in the face of your fears
… Oh, the fear is still there, you're just able to recognize it for what it is and move forward anyway.
Saying "yes" to opportunities without the burden of perfection
… Imagine feeling comfortable being fully you and not worrying about what other people think.
Building highly productive habits that take your life to the next level
… No more half-hearted attempts to do something new. You'll get the tips and tricks for habit building that the most successful people use.
Being part of a community that will help you co-create Your Experience
… They say you are the sum of the five people you spend the most of your time with. It's time to elevate your game!
I want to introduce you to something I'm so excited about…
It's been years in the making. It's called…
---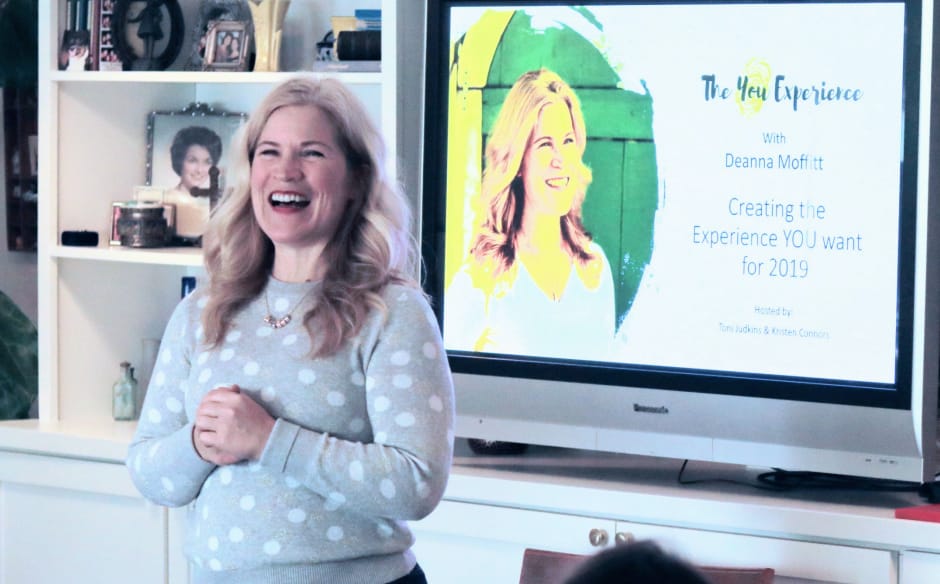 The You Experience
The You Experience is a weekly session with other real live humans where I personally share my highly-effective life changing strategies.
Each week you'll walk away with specific actions to take between sessions and you'll be added to the you experience community to aid in accountability.
These are the same strategies that moved one of my clients from being deathly afraid of heights to laying face down over the edge of the grand canyon!
The same strategies that helped another client recognize their own negative narrative about their lives and are now living a life of their dreams as an award winning photographer.
The very same strategies I've used with leaders in 100s of companies to elevate their leadership skills and effectiveness.
And the best part, these strategies can help you improve and develop in all the key areas of your life; relationships, career, family, and health and wellness.
But, I do have to let you know that due to the small, intimate nature of the ​the you experience only a few people will be approved to join
I was working in a job that was slowly sucking my soul dry, stuck in a relationship because I didn't want to hurt his feelings, (never mind the fact that I was dying inside), feeling like good things were for other people and I should just be happy for them.
I couldn't bring myself to take action on the things I wanted, I was playing small and was pretty sure the good life was for everybody else.
But life has a funny way of forcing things to happen. I moved cross country to a new city, my relationship ended when he fell in love with someone else, and I realized I had to do something different but I wasn't sure what that something different was.
So, I read every personal development book I could get my hands on, bought a ton of online courses, I hired the best coaches I could find, got several coaching certifications and realized that change is challenging but it is totally possible.
I have to be honest, it boggles my mind now when I meet people who are stuck, unhappy, suffering and not reaching out for help. Our lives don't come with an instruction manual.
Think about it, if you wanted to become a champion tennis player you wouldn't just play with your best friend who has never taken a lesson themselves and assume you could get to Wimbledon.
You would hire the best coach you could afford and put your heart and soul into practicing. Creating the life you want is similar, it will be next to impossible if you only talk about it with people who are just as stuck as you are.
You've only got one shot at this life, why not make it great? It may not be easy but it is the best journey you'll embark on; it does take intention, curiosity, willingness and the belief that you are worth investing in. And my friend…There is no doubt, you are absolutely worth it.
Let me tell you how I know these strategies can work for you, because I was once in your shoes.
---
What's included in the program
In case you're wondering, here's what is included:
Eight live webinar sessions
Pdf worksheets that support each lesson
Lifetime access to all the recordings
Private facebook community & support
Meditation & guided visualization exercise
Here's what you'll learn in the you experience
Create clarity in your life, relationships and career
Overcome fears, stopping you from creating the life you want
Master and embrace the habits you want to create
Up your quotient and gain control of your emotional intelligence
Experiment with failure like a scientist
Define what matters most to you and live in alignment
Live purposefully and abundantly
Write and live a better story for your life
Overcome fear and beat procrastination
Go from unsure to gaining control over your life direction
Rewire your negative emotions and increase your emotional intelligence
Overcome feelings of unworthiness and being overwhelmed
Define what matters most to you and get more of what you want
Awaken your awareness and be the confident you!
I'd love to talk with you to see if you're a right fit for the ​you experience.
You've got two choices…
You can stay stuck, feeling like you're somehow missing out on life.
You can let me help you illuminate the path to the life you've always wanted.
It's a simple decision that can change your life.
Which will you choose?
---
Now who is this smart, funny, insightful woman who created The You Experience?
Hi, I'm Deanna!
I illuminate the path to clarity, curiosity and wisdom for people across the country through corporate workshops, virtual trainings, seminars and private one-on-one coaching in order for them to become the best leaders for others and to lead their best life possible.
But this wasn't always my life, I worked as an IT project manager, a job I was really good at, but it was a golden handcuff situation. Even though it paid well, I longed for something else. I started taking improv classes on the side and wondered what would happen if I spent my time and energy doing something I loved?
So, I quit my job, sold my home and moved from Portland, or to Chicago where I toured and performed in front of thousands of people. I had a great time…Hosted two very popular storytelling shows, and taught at the famed second city.
Externally I was living a life of fun and adventure, but I was still struggling with my sense of worth and a personal narrative that fueled the false message that true success was for other people. A move cross country and an unexpected end to a 14 year relationship forced me to take a long hard look at the life I had created. I knew I wanted something different but I didn't know what that was or how to get there.
The crazy thing is, once you become willing to change, doors of opportunity start opening. I'm so grateful for all the coaches, online courses, books, seminars and retreats I experienced. Every one of them held a lesson for me.
I began experimenting with micro-passions and enjoying the process instead of being focused only on the outcome; I became crystal clear on my values and my non-negotiables in relationships; I realized we all have fears and the most successful people are driven to go after their goals, dreams and visions anyway; and finally, I started asking how I could use everything I've learned to help other people.
That's what the you experience vip inner circle is all about. I want to share with you what it took me years to discover, learn and finally live, in order to create the life you want. And I want to do it with small groups, knowing the best learning comes from conversations where we can co-create the experience together.
---
Who is The You Experience for?
Anyone who is tired of feeling stuck…Or that feeling of "is this all there is?"
Anyone who is willing to break the patterns of self-sabotage that have stopped them from getting more of what they want.
Anyone who is willing to say yes to the possibility of living a life they intentionally create.
People who are willing to show up for themselves and a small select group of others and be fully participative.
People who understand that I can share all of my strategies and knowledge but it is up to them to take the necessary steps to change their lives.
Who is The You Experience not for?
It's not for the person who thinks that I will solve all of their problems.
It's not for person who is only giving lip-service to the idea of changing their lives and aren't interested in doing the work.
If this is you…Don't bother applying.
---
Frequently Asked Questions
How long will I have access to this course?
You will have lifetime access!! How cool is that!?? This includes access to updates and new video content releases.
How is the course content delivered?
The good news is that it's not a boring slideshow with a monotone voice over it. I wouldn't do that to you! We'll use a live video format with a small number of participants to keep it intimate. There will also be worksheets that will help you along your journey.
This is a big step of faith for me. Is it really worth the price?
I think a better question to ask is "am I worth the investment in myself?" for eight weeks you'll get a rare opportunity to learn new strategies, work with a small group of like minded individuals and be held accountable for your growth.